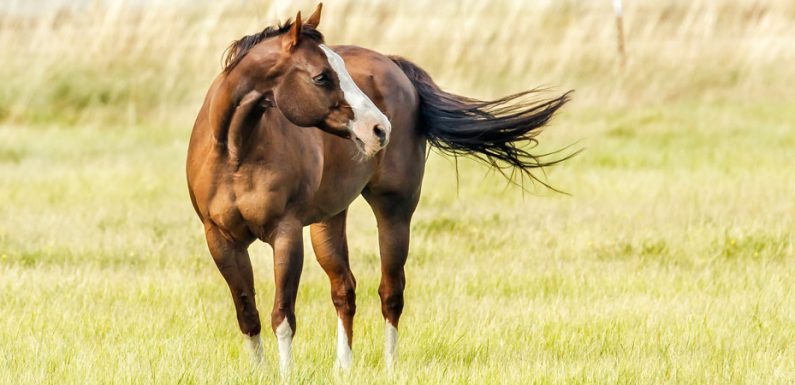 We have been testing for susceptibility to immune-mediated myositis (IMM) since August this year and have seen a number of Australian horses test positive.
IMM is a new addition to the recommended tests for horses that would have traditionally used the QH 5-panel. This is Quarter Horses, Paints, Appaloosas, Quarter Ponies and cross-bred horses with QH bloodlines.
The primary sign of IMM is fast and severe muscle loss along the top line. About 40% of the time an IMM episode comes 3-4 weeks after a trigger such as a strangles infection or vaccination. In the remaining cases no obvious trigger is known. A horse having an IMM episode will be stiff, depressed, feverish and show loss of appetite. IMM is most common in horses under the age of eight, or over 17. It affects both male and female horses.
If your horse tests positive for the IMM gene, don't get too worried. It's still exactly the same horse as it was before you tested. Your horse may never have an IMM episode. If it does have an IMM episode, you and your vet are now much more likely to identify the issue quickly. If treatment is required, you will also be able to begin treatment more quickly.
Nothing suggests that the IMM gene has a negative effect on athletic performance.
Horses with two copies of the IMM gene may have more severe IMM episodes than horses with one copy. If your horse tests positive for the IMM gene it is good breeding practice to make sure this horse is not mated to any other horses that are also positive for the IMM gene. This means DNA testing the other horse or seeing a copy of existing test results before you confirm the mating. Keep in mind the turnaround time for DNA testing (we usually need 2-5 working days from when we get your sample).
Our positive results for IMM show the same pattern as has been reported overseas: it is most common in horses with reining bloodlines, followed by working cow and halter lines.
All our tests have a one off sample processing fee of $40 and the IMM test is $14. Click here to order an IMM test for your horse