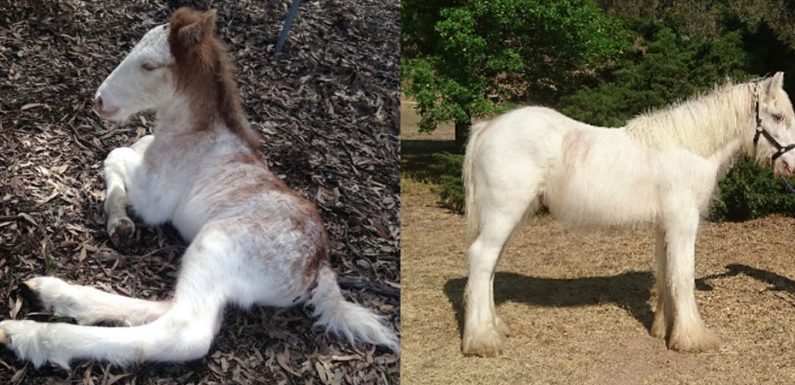 We've already shown you one example of how much white you can get when a foal inherits a copy of sabino 1 from one parent, and a copy of W20 from the other. Here is our next example: Tahmathor Park Colonial Jasper. He is a drum horse by the striking silver dapple stallion Abs Of Lindale, out of the bay Clydesdale mare Samarah Park Regal Rose.
Jasper is a bay silver with both sabino 1 and W20 (no roan marker, no tobiano). The photos show clearly his white markings increasing when he shed out as a yearling, which we hear is also typical of SB1/W20 horses. Only a few speckles of colour remain along his back. You can also see that his silver dilution has started expressing itself clearly.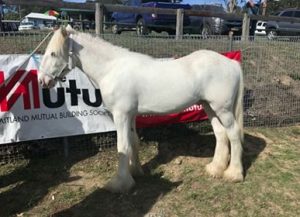 The combination of sabino 1 and W20 produces much, much more white than just W20 by itself, or just sabino 1 by itself!
If you are curious as to exactly why this happens, read more about W20, sabino 1 and the other W genes here.
As a side note, any horse with the SB1/W20 genotype will pass on either SB1 (sabino 1) or W20 to its foals – never both, never neither.
Thank-you to Sally Adams of Tahmathor Park Equine for sharing this colt's photos and story.
Visit Practical Horse Genetics to test for Sabino 1 and / or W20